Viewing posts from: November 2000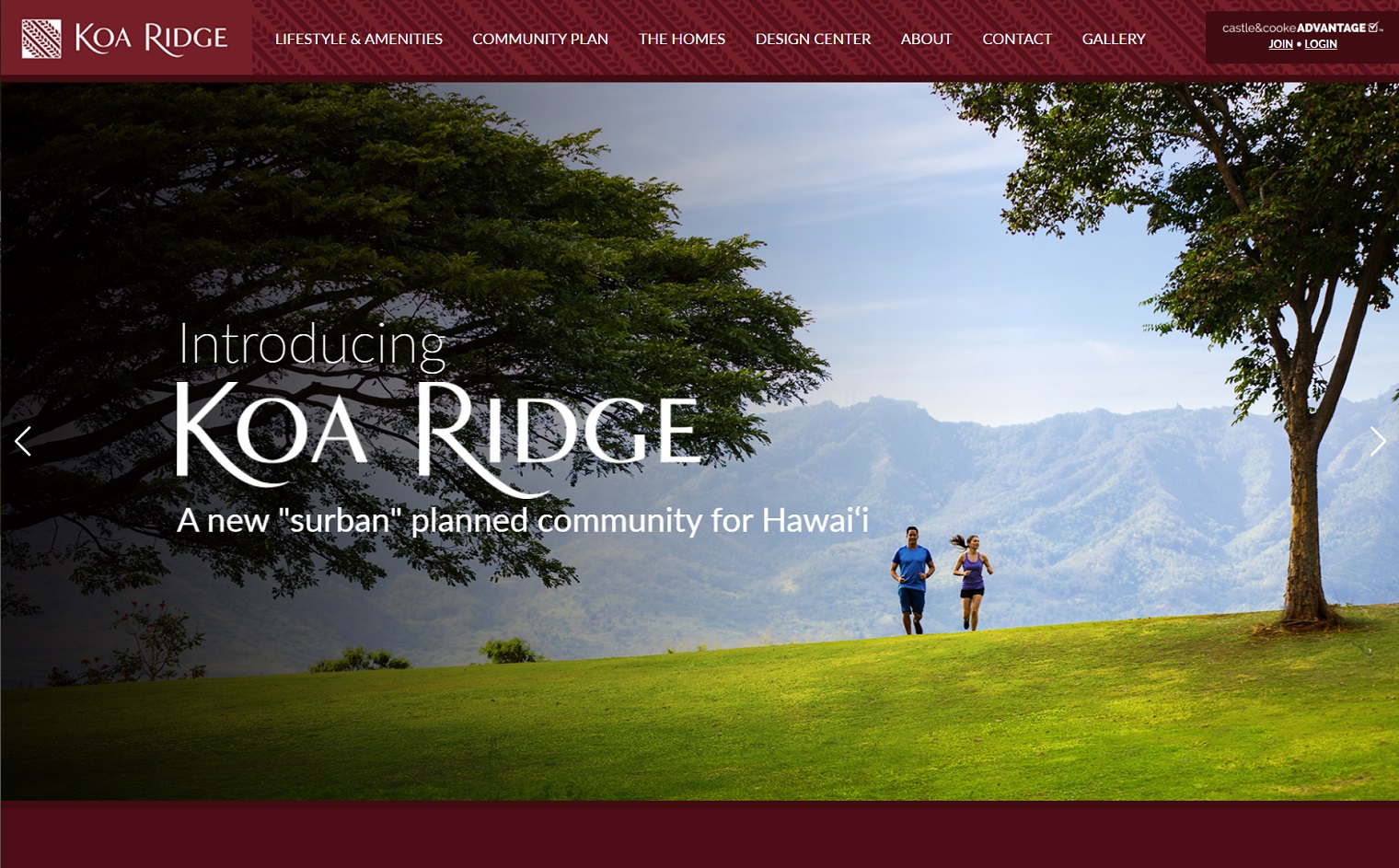 KOA RIDGE WEB SITE DESIGN – CASTLE & COOKE HAWAI'I
Koa Ridge is Castle & Cooke's brand-new "Surban" master-planned in Central O'ahu that combines the best of urban living with the beauty and comforts of a suburban location.  The largest real estate development by Castle & Cooke since Mililani, Koa Ridge will offer 3,500 homes over a ten year period.  A very tech-oriented company that focuses the majority of their marketing efforts on digital, Castle & Cooke once again turned to us for the development of a powerhouse website that combines the latest technology tools with stunning graphic design and storylines that effectively communicate the powerful new Koa Ridge brand.  The new website is not only visually engaging, it effectively weaves together the two major brand stories of Hawaiian history and Surban master-planned community. The website is ADA compliant and features many custom-designed systems, including a content management system, blog system, site map and inventory management system.  In addition, Team Vision redeveloped the company's long-running Advantage Program Customer Management System, which manages customers from their very first interaction with Castle & Cooke all the way through closing and customer service after the sale.  Check out the new site at www.koaridge.com.
Team Vision Marketing and Castle Cooke have worked together for over 20 years on launching their new real estate communities. For each new release, we help create the brand identity, website design, brochure and collateral programs, sales office design with interactive displays, and the offline and digital advertising and marketing programs.
View other creative work we have done for Castle & Cooke Hawaii, including photo shoots, print advertising, sales offices, events, website design, package design, social media marketing, and integrated online marketing.
Listen to what Bruce Barrett, Executive V.P. of Castle & Cooke Hawaii, has to say on his experiences working with Team Vision for all of their marketing needs.
Hawaii Web Design – Islander 'Ukulele
Team Vision Marketing has been working with Islander 'Ukulele and Kanile'a 'Ukulele for over 15 years, building their original web sites and handling their Hawaii web design and marketing needs. For this project, Islander 'Ukulele hired us to build a brand-new web site to match their updated branding guidelines. The new web site features a responsive web design with parallax and motion integrations, featured artists sections with videos and event calendars,  Woocommerce ecommerce integration for 'ukulele sales, and many more custom features.  The web site is set up and optimized for Search Engine Optimization (SEO) and it also optimized for top speed and performance.
Islander 'Ukulele is the brother company of Kanile'a 'Ukulele, a leading provider of quality custom made ukuleles in Hawaii. Islander 'Ukulele designs affordable, entry-level instruments from 'ukuleles to guitarleles to mini guitars in varies sizes and materials, all made with the same trusted sound of Kanile'a 'Ukulele. Check out their brand new Hawaii web design at www.islanderukulele.com
Hear from Joe Souza, Founder of Kanile'a 'Ukulele and Islander 'Ukulele, on his experience with working with Team Vision Marketing.
Ke Kailani Web Design
Located at a speactular oceanfront location in the exclusive Mauna Lani Resort area on the Big Island of Hawai'i, Ke Kailani offers you the ability to create the custom home of your dreams on one of their luxury oceanfront or golf course home sites. You can view the new Ke Kailani web site at kekailani.com
Team Vision was tasked with developing the brand identity for Ke Kailani and communicating  the messaging of upscale, exclusive, private and spacious.  Our objective when designing the web site was to communicate this messaging primarily through the use of large format images that we captured during a lifestyle and product photo shoot. Other unique features of the site include interactive galleries and floor plans, and an interactive site map that allows users to mouse over the lot selection of their choice  to see a detailed floor plan, renderings, and 360 degree virtual tours of the views from every home site. View the full site at kekailani.com
Campaign details
Ke Kailani Web Site
Client: Hunt Companies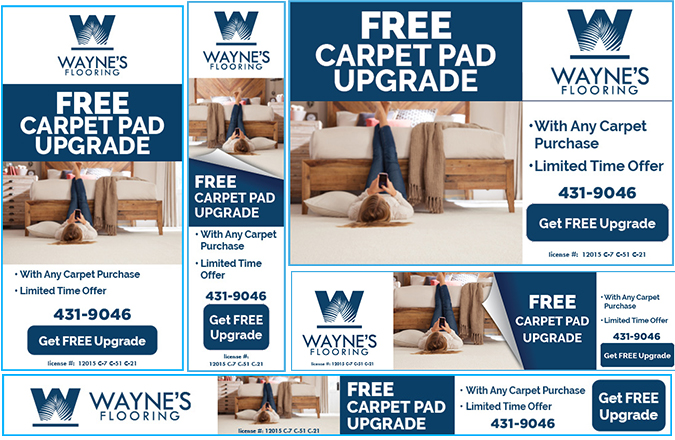 Digital Marketing & Social Media Campaign – Wayne's Flooring Hawaii
To spread awareness and promote Wayne's Flooring's FREE Carpet Upgrade offer, Team Vision Marketing designed and developed this digital marketing and social media campaign, consisting of Facebook and Instagram ads, Google Text Ads, and Google Display and Retargeting Ads. The paid digital marketing campaign was supported by strong organic social media promotions. We took a straightforward approach for the ads' creative, featuring a carpet peeling up to reveal the eye-catching "Free Carpet Pad Upgrade" headline. The ads also incorporated bullet points to entice our target audience to visit the website where they could review flooring options and request a free quote via a conversion tracking form.
Wayne's Flooring is a local Hawaii flooring business, operating on O'ahu for over 40 years, known for their excellent customer service and having the best prices for high-quality flooring products at their Kaimuki and Sand Island showrooms.
View more of our creative Hawaii advertising and branding work, including logo design, photoshoots, print advertising, sales offices, events, website design, and online marketing, that we developed for clients and brands on O'ahu, Maui, Kaua'i, and the Big Island in our portfolio.
Dolly Moreno, former Director of Sales & Marketing at Honua Kai Resort & Spa, talks about her experience working with Team Vision Marketing on all of her advertising, branding, and digital marketing needs.
Campaign Details
Title: Hawaii Digital Marketing and Social Media
Clients:  Wayne's flooring
www.WaynesFlooring.com