Viewing posts from: November 2000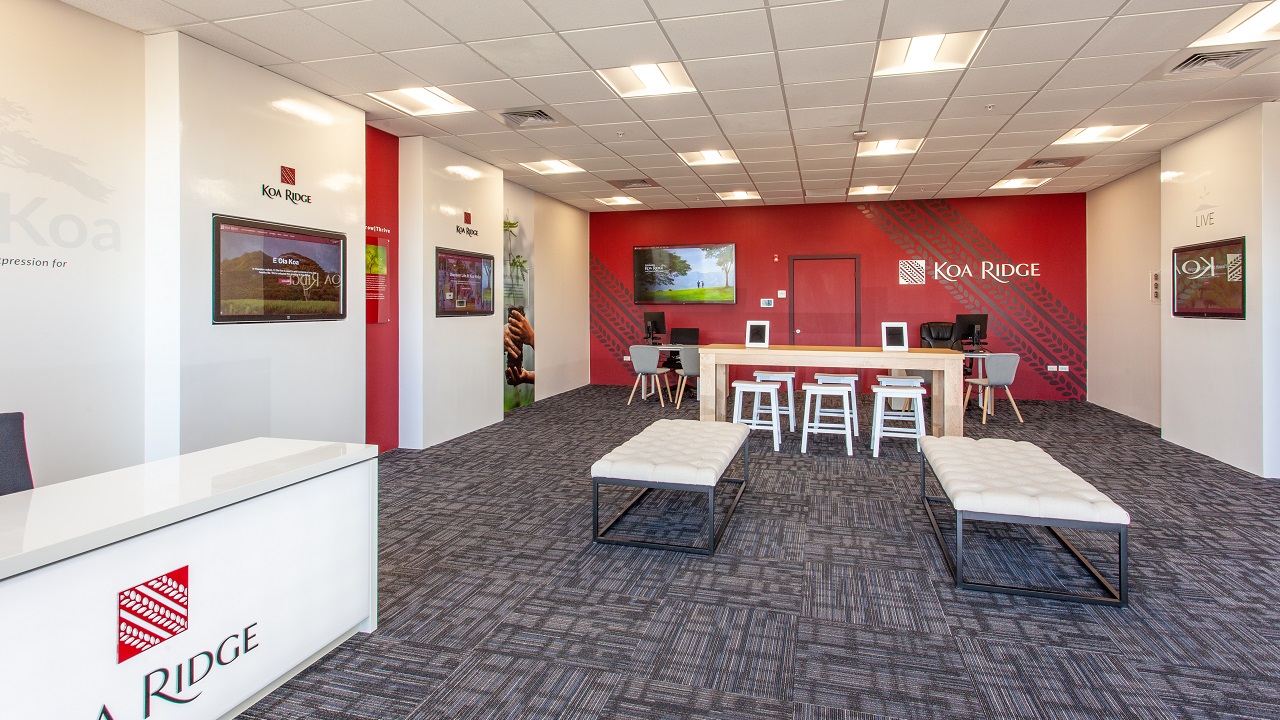 KOA RIDGE SALES INFORMATION CENTER DESIGN
Koa Ridge is Castle & Cooke's brand-new "Surban" master-planned in Central O'ahu that combines the best of urban living with the beauty and comforts of a suburban location. Team Vision Marketing had the pleasure of designing this state-of-the-art Koa Ridge Sales Information Center for Castle & Cooke Hawaii. Everything from the physical displays and touchscreen interface designs, technology planning and procurement, and furniture design was handled by Team Vision. The combination of ancient Hawaiian history and modern-day "Surban" community storytelling makes this a unique and engaging sales presentation.
Team Vision Marketing and Castle Cooke have worked together for over 20 years on launching their new real estate communities. For each new release, we help create the brand identity, website design, brochure and collateral programs, sales office design with interactive displays, and the offline and digital advertising and marketing programs.
View other creative work we have done for Castle & Cooke Hawaii, including photo shoots, print advertising, sales offices, events, website design, package design, social media marketing, and integrated online marketing.
Listen to what Bruce Barrett, Executive V.P. of Castle & Cooke Hawaii, has to say on his experiences working with Team Vision for all of their marketing needs.
HAWAII SIGN DESIGN – WAYNE'S FLOORING STORE SIGNS
After 40 years, Wayne's Flooring, a locally owned and operated Hawai'i flooring business, reached out to Team Vision Marketing for a full rebranding package to revamp their brand with a fresh, contemporary look.
A part of Wayne's Flooring's full brand refresh package included designing brand new showroom signage that incorporated their newly updated logos. Featured below are the freshly installed storefront and window branding decals that we designed for Wayne's Flooring Kaimuki and Sand Island, and Wayne's Flooring Outlet showrooms.
Listen to what Howard Kihune, Jr.  had to say about working with Team Vision for all of his advertising and marketing needs.
Ke Kailani Sales Office Design
The sun-kissed Kohala Coast of the Big Island is a destination of immeasurable beauty, a sanctuary of nature's elements in perfect harmony. Located within this paradise, on an exquisite oceanfront parcel of land in the world-renowned Mauna Lanai Resort area, you'll find Ke Kailani.  As part of a brand re-launch campaign. Team Vision marketing designed and fabricated this luxurious real estate office.
We started with a new theme, color palette, logo refresh, and a lifestyle brand photo shoot. We then integrated those elements into this luxury sales office design which incorporates rich woods, glass, natural stones, and other raw materials to create an upscale presentation. High quality photographic prints on metal, an interactive touchscreen embedded in a custom wood façade, and an impact display constructed of a raised logo and lettering on top of a white wave pattern wall, complete the elegant design.  As part of the brand re-launch campaign, all supporting marketing materials were redeveloped, including the logo, print advertising campaigns, brochures and collateral, web site, online marketing materials, social media campaigns,  and community signage.  The end result is a totally fresh, modern and elegant look.
Campaign details
Ke Kailani Sales Office Design
Client:  Hunt Development Group
KeKailani.com
Hawaii Sign Design – Pu'uwai Place Entry Sign
For over  20 years, Team Vision has worked with Castle & Cooke Hawaii on launching each of their new communities from naming and brand identity development to online marketing, offline marketing, brochure and collateral design, events and more. For each neighborhood, we are responsible for developing the brand identity, logo design, sales office design theme, interior layout and furniture plan, and design and fabrication of the various sales displays. The featured image below is a community entry feature sign design that we developed for the new Pu'uwai Place real estate neighborhood located blocks away from Waikele Center in West Oahu.
Hear from Bruce Barrett, Executive V.P. of Castle & Cooke Hawaii, on his experiences working with Team Vision for all of their marketing needs.
Koa Ridge Groundbreaking Event
Koa Ridge will be Castle & Cooke Hawaii's largest master-planned real estate development since Mililani.  Located in Central O'ahu, Koa Ridge will provide around 3,500 new homes  for Hawai'i families.  Team Vision Marketing was called upon to design the Koa Ridge web site, various collateral, signage and enewsletter programs to support the November 2, 2017 Koa Ridge groundbreaking event.
On November 2, 2017, Castle & Cooke Hawaii's Koa Ridge project officially broke ground.  As the full-service advertising and marketing agency for Castle & Cooke Hawaii for the past 20 years, we were tasked with developing a variety of print, signage and collateral materials, and a web site,  to support the Koa Ridge groundbreaking. Event and promotional elements included a custom SWAG gift item which consisted of a Waialua Estate Chocolate Bar packaged in a custom Koa Ridge wrapper design.  Next, we recommended turning an old water tank sitting right near the site of the upcoming Groundbreaking event into a custom Koa Ridge mural which we concepted and designed and contracted an artist to paint.  The mural became the focal point and served as the background in most media coverage. We also created printed display boards which included renderings and site maps of the future Koa Ridge project, and the new Koa Ridge web site served as the call-to-action in most communications pieces.  View the new Koa Ridge web site at www.koaridge.com
Hear from Harry A. Saunders, President of Castle & Cooke Hawaii, on his experience working with Team Vision.
Campaign details
Koa Ridge Groundbreaking
Client: Castle & Cooke Homes Hawaii
http://koaridge.com